If looking for an adventure in nature, to trek to very high zones, and to visit an attraction that has less crowds of people, you should consider the beautiful rainbow mountain, Palcoyo.
Where is it? How do you get there? Is it the only mountain of colors in Cusco? What is the altitude? When is the best time to go and visit? We will answer all of your questions regarding this place in this post. If you travel to Cusco and desire to appreciate a unique natural wonder, your best option is Palcoyo mountain.
Our Video of MONTAÑA de Colores Palcoyo
The Mountain of Colors in Cusco
Cusco boasts two important rainbow mountains, Palcoyo and Vinicunca. Between these mountains extend colorful hills that create a valley of splendid colors.
Historically Vinicunca was the mountain of colors most visited. The name is very well known among tourists and is always one of the first places recommended to travelers. But in the last few years there was a route opened that leads to Palcoyo, and each season more tourists elect to take the trails towards this hill.
Palcoyo can be more attractive to visitors, as there is not the influx of tourists that Vinicunca has. It is not as documented, or as photographed. Because of this, travelers can have a more intimate experience, and from the summit of the mountain you can you enjoy a view of all of the valley and even admire the majesty of Ausangate.
How High is Palcoyo Mountain?

The mountain of colors, Palcoyo has an altitude of 5,000 meters (16,404 feet) above sea level. It is a very tall hill, like his sister Vinicunca. If you arrive to Cusco from abroad, or from areas closer to sea level, we recommend a period of acclimation. Cusco is more than 3,300 meters (10,826 feet) above sea level and this altitude can be hard for travelers. To avoid altitude sickness, it is best if you visit Cusco and rest, to acclimatize. There is also a stretch of the Inca Trail that is located surrounding the city, which is good for conditioning. This will help prepare your body so you will be ready to do the trek to Palcoyo.
If the altitude affects you a lot and you start to have a headache, or other discomforts, you can take a Sorojchi pill. Which you can purchase at your local pharmacy. This should help relieve your negative symptoms. Other options for treating altitude sickness are infusions of coca or simply chewing coca leaves.
The trekking is not very difficult and the trail is not too steep, but the altitude at the top of Palcoyo is so high that we advise you take necessary precautions, for the best experience possible.
Where is Palcoyo? 
The mountain of colors, Palcoyo, is in the region of Cusco, in a community that shares the same name. It is in the district of Checacupe, a part of the Canchis province. It is 4 hours south of Cusco city, and less than 20 kilometers from the other rainbow mountain, Vinicunca. It is not a short trip, so make sure to give yourself a whole day for travel.
How to get to the rainbow mountain?
To get to Palcoyo you will need to travel from Cusco by road for approximately 3 hours to the Combapata district. Pay attention, before you arrive to the town, you need to take a left. In this area you can stop to see the Checacupe bridge, a suspension bridge created by the Incas. After you enjoy this area, you need to continue travelling for one more hour on the highway to reach a parking lot. From this point you can see the mountains of color, but it is one more hour on foot to the summit of Palcoyo. The trajectory is not difficult, nor is it steep, but it is good to go slowly so you can enjoy the view, and conserve your energy.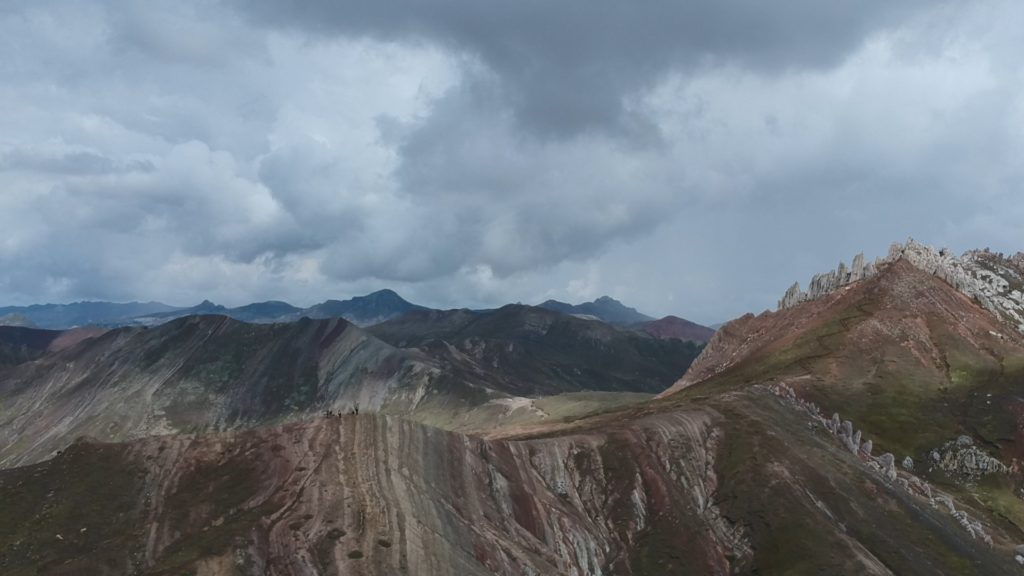 Why does Palcoyo Mountain Look Like a Rainbow? 
The colors of these mountains is a result of a, "a complex geological history of marine, lacustrine, and fluvial sediments,"  according to a report from the Office of Cultural Landscape of the Decentralized Directorate of Culture of Cusco. The water that covered this area transported sediments during the last 65 million years and the distinct sections of colors were formed. Over time, the movement of tectonic plates elevated the sediments and formed the current mountains. Subsequently, the oxidation of the minerals together with the humidity of the area, created the colors that you can see today.
The Composition of the Stripes on the Mountain of Colors are the following:
1) Pink or Fuchsia: a mix of red clay, mud, and sand.
2) White: sandstone (quartz sand) and limestone.
3) Purple or Lavender: a mix of clay and calcium carbonate and silicates.
4) Red: argillites and clay.
5) Green: clays rich in iron manganate ( a mix of iron and magnesium) and  oxidized copper.
6) Yellowish Browns, Mustard or Gold: limonites, calcareous sandstones rich in sulfur minerals (combined with sulfur).
The Best Times to Visit Palcoyo 
April to September is the best time of year to experience the rainbow mountains. During these dates the summit is the most enjoyable, although it never stops being cold. But there is no rains so that the trails and roads are not dangerous.
On the other hand, the months of October to March are abundant with rainfall and it causes erosion in the rocks. This leads to the risk of avalanches, landslides, and falling stones. Almost all tourist agencies stop offering tours during this time of year to avoid giving tourists a dangerous excursion.
We recommend you bring to Palcoyo …
Trekking shoes
Water
Sunscreen
Warm Clothes
Waterproof clothes
Gloves for the cold
Sunglasses
A Hat
Snack
Palcoyo is an excellent natural attraction for you to discover during your visit to Cusco. Enjoy this unique landscape and we hope you make it to the top of the mountain of colors.