Cusco is  a great place to visit during the day; filled with history, culture and stunning architecture.  But when the sun goes down you see a whole different side to the Inca City.  In that vein, here is our choices on the best bars in cusco, best clubs in cusco, and generally enjoyable dancing and partying in Cusco. At night tourists and locals alike will hit the streets in search of good times, so prepare yourself for a night on the town, Cusqueño style!
Nightlife in Cusco!
The best places for drinking and dancing in Cusco!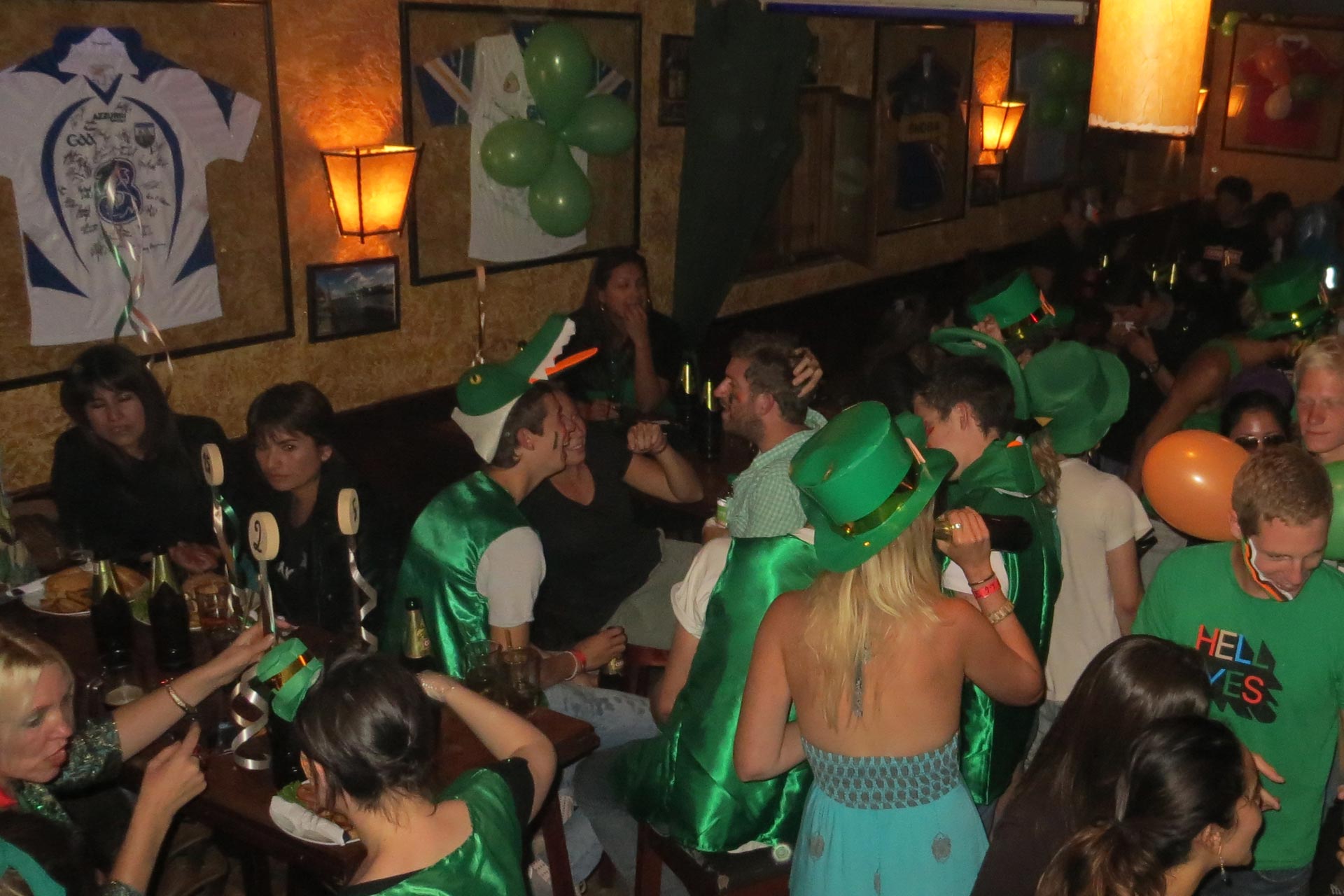 Bars
For a taste of home with fellow travellers:
The Cross Keys (Triunfo 350) – Cross Keys is one of the oldest pubs in Cusco. It's popular with British tourists, as it is owned by the English honorary consul. If you're a Brit and you miss your local, this is the place to come.
Paddy's Irish Bar (Triunfo 124) – The highest altitude Irish-owned bar in the world, Paddy's is a favorite with homesick travelers needing a pint of beer and an English (or Irish) Breakfast.  Although they don't serve draft Guinness on tap, the place is both friendly and busy!
For a more Peruvian flavour:
Inkaria (Suecia 395) – A restaurant / bar, Inkaria offers a great view of the city to enjoy while you sip your pisco sour.  Try their house liquor Inkaria, also known as the "soul of twenty plants." This will definitely prepare you for a long night ahead, plus the drink comes in a guinea-pig-shaped pitcher!
Chilcano Pisco Bar (Plateros 326) – known for its pisco cocktails, this bar has a great range to choose from, close to the Plaza de Armas in warm weather grab a spot on the balcony and watch the world go by.
Ukukus (Plateros 316) – Ukuku's Bar is known to have the best live music in Cusco, where you can dance to a variety of live music and shows every night, from alternative and jazz to Latin, Afro-Peruvian, Andean fusion, and rock, among others. You can even spend the night here, as they're open until 5am, and make the most of happy hour until 10.30pm. Hungry? They have a pizza bar, too.
Memoria Bar (Plateros 354) – a classy looking place, Memoria has live music, great drinks and a funky black and white dancefloor creating a great atmosphere for a night out.
Mythology (Portal de Carnes 298) -If you're into salsa, head to Mythology Bar on Plaza de Armas. There are separate rooms for salsa lesson and ballroom dancing to a medley of Latin music. Later on the music is more varied including international hits, but it still retains a distinctly Latin flavour.  A favourite with locals, definitely worth checking out to watch the salsa dancers if nothing more!
Nightclubs
Mama Africa (Portal de Panes 109) – right on the Plaza de Armas you can't beat the location of this popular club, packed with backpackers and locals on the weekends. Its free before 11pm, or keep an eye open for promoters on Plaza de Armas who offer free passes.  If you arrive early you can often get free salsa classes, then later the music switches to international hits and a mix of all sorts!  Bring small notes if you can; there have been reports of people who didn't get change when they paid with 50 or 100 soles bills.
Inka Team (Portal de Carnes 298) – Another one on Plaza de Armas. Inka Team promises an unforgettable experience of Cusco's nightlife. The feel-good atmosphere and fiery crowd will keep you dancing through the night. You can choose among three modern bars, too, each offering different themes. The club also has a state-of-the-art sound and lighting technology, and professional DJs to complete your ultimate fun clubbing experience.
Temple (Tecsecocha, 282) – a great alternative to the clubs on the Plaza de Armas. Temple is a big place compared to those clubs. It also has a balcony to grab some fresh air in between drinks and dancing.  Get your groove on to pop, some rock, and plenty of electronica, and bag yourself some free salsa or bachata classes from 9.30pm – 11.30pm every night.
Chango (Calle Tecsecocha 415 – A) – a relatively newcomer. Chango burst onto the Cusco club scene with live music, theme nights and all night dancing.  Thursday night is ladies night, when the chicas get free shots; they have a different theme each night of the week, and a great music selection.
Sky Discoteca (Av. Del Sol 106) – regulars are mostly locals. However the place is heaving on Friday and Saturday nights with both residents and tourists. It's worth a try to see what makes this bar a top choice among youngsters. A fun ambiance with different styles of music, although Latin tunes are by far the most popular.